Are you spending too much time searching for the best tools to use in your entrepreneurial online business? Well, hopefully, your search can now come to an end. This post lists 38 amazing and must-use tools for internet entrepreneurs like you!
I suffer from something that's called "shiny object syndrome." If you have no idea what that is, read this post to learn more.
In translation, it means that I'm a sucker when it comes to new tools, technology, apps, gimmicks, and everything else in between.
I mean, who doesn't suffer from shiny object syndrome? Here's hoping that I'm not alone in this.
If it wasn't for my obsession and discovering new tools to use in my business, I don't think I would have found the success that I have with my blog and freelance business.
Not to blow my own trumpet, of course.
I'm sure I have many more tools to discover, and I can't wait to try them all!
Of course, not all online tools are made equally. Not all of them are useful.
So, to save you a ton of time, money, and heartache in finding the right tools for your online business, below is a list of the best online tools that have helped me in my blogging, freelancing, and entrepreneurial journey far.
Chances are you're already using some of these tools yourself, but perhaps there are a few in here that are waiting to be discovered.
Let's waste no more time and drive straight in.
Table of content
1. Website Creation Tools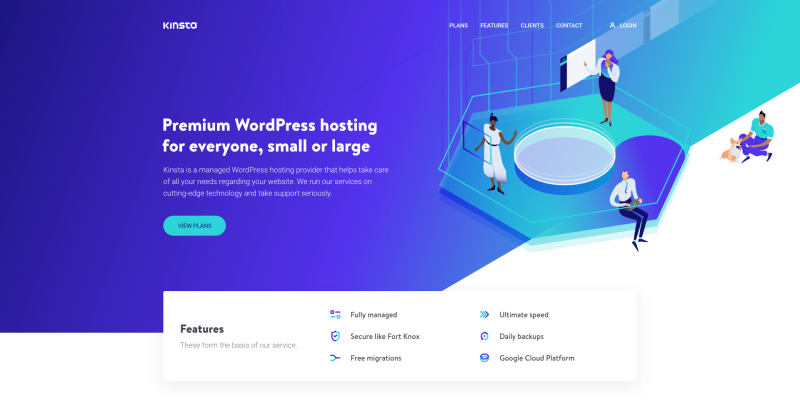 Let's start with the basic essentials needed for creating the perfect website, be it for your small startup company or your personal brand business.
By the way, If you already have a website, then just skip this part altogether. Unless you want to create another website.
Kinsta - Top level WordPress hosting for serious entrepreneurs! One of the best in the industry, combining state-of-the-art technology with security, built on the Google Cloud Platform.
WordPress - The best and most versatile website building platform on the web. WordPress now powers 40% of all websites on the world wide web.
Thrive Theme Builder - World-class quality, secure, robust, SEO-friendly all-in-one theme builder from Thrive Themes. You can now create the website of your dreams using simple drag-and-drop, visual editing. I don't use Thrive Theme Builder for Magnet4Blogging, only because the plugin was launched after I completed my website build with Oxygen Builder.
WPForms - The most advanced and easy-to-use contact form builder plugin for your WordPress website. It's super lightweight which means it won't slow down your site.
WooCommerce - A fully customizable e-commerce platform for your WordPress website. Sell almost anything you want online, from physical goods to digital downloads. There is also a range of extensions available for WooCommerce.
2. Landing Page and Email Marketing Tools
Now, let's take a look at the best 'email' tools every entrepreneur should use.
Thrive Leads - The most advanced email opt-in form builder and list building plugin for WordPress, period. Thrive Leads comes with built-in advanced targeting and A/B split testing engine, conversion reports, and metric tools, plus more. This is the plugin we use on Magnet4Blogging.
Thrive Architect - A game-changing point, click, drag and drop, landing page builder plugin for WordPress. I have built several landing pages here on Magnet4Blogging using Thrive Architect.
MailChimp - One of the most cost-effective and reliable email marketing service providers you can use for growing your internet business.
3. Analytical and Conversion Rate Optimization Tools
With the tools and services I've already mentioned above, you can do a lot of damage and grow a great business online.
Now we move onto the best analytical and conversion tools, because after all, as an entrepreneur, you want to get the best results from your marketing efforts, right? And there's no better way to get the best by analyzing and testing your ideas and strategies.
Google Analytics - A powerful free website traffic analytical and reporting tool provided by Google. Google Analytics is one tool all internet entrepreneurs should be using.
Crazy Egg - A super useful, simple-to-use, cost-effective visitor behavior tracking, click heatmap, scroll map, A/B testing service for entrepreneurs serious about customer interests and conversion optimization.
Thrive Optimize - A powerful add-on plugin for Thrive Architect that lets you test multiple variations of any landing page in your WordPress site. Check out my review and tutorial for this plugin here.
4. Accounting Tools for internet entrepreneurs
As the money starts to flow, you'll need to keep track of your income and expenses and make it easy for your customers to transact with your online business.
WaveApp - A free financial, invoicing, accounting software for small businesses, entrepreneurs, and bloggers.
PayPal - PayPal has built a rock-solid reputation for themselves over the years, and it is by far the most trusted and reliable online payment service that all entrepreneurs should be using.
Stripe - Stripe is one of my favorite apps. It's great for entrepreneurs wanting to receive payments over the internet directly into their account. It's also extremely cost-effective.
5. Time Management and Calendar Scheduling Tools
Now, getting organized is critically important for an entrepreneur. These tools should help you do just that.
CoSchedule - If you're looking for the best content marketing calendar in the business, then look no further than CoSchedule. I've used CoSchedule for the past few years and I simply couldn't manage my blogging business without it. I can literally schedule everything from social media posts, email newsletters, blog posts, to-do lists, Instagram posts, and more, all in one place!
OnceHub - If you're looking for a meeting and appointment scheduling software to help you save time and get more smiles from your customers, then this is the tool to use.
Ultimate Blog Planner - My little contribution. I created this cool 70+ page blog planner template workbook to help bloggers become more organized, be more productive and to stay focused on reaching their blogging goals.
6. Collaboration and Communication Tools
Communicating with your audience and prospects as an entrepreneur is so important. Here are some tools to help you stay connected with your audience -
Skype - If your entrepreneurial business is freelancing or providing a service, then there's no better way to communicate with your clients than to use Skype. I've used Skype for many years and I can't complain. Video conference calling is amazing through Skype, easy to set up and get started.
Slack - As a freelance web designer and marketer, Slack has played a major roll in the day-to-day of running my online business. Slack is an awesome app for collaborating with your clients and anyone involved in your project. Everything from sharing ideas, uploading images, content, PDF's, to having discussions with your team can be done in Slack.
7. Outsourcing
Don't have time to design your own website, create content, or do marketing? Outsourcing could be an option for you -
UpWork - I use UpWork primarily for finding content writers for personal and client projects, however, UpWork is also a great place for finding developers, web designers and creatives, VA's and more for any project you're working on. If you're wondering whether UpWork is worth your time and money, do check out this detailed review of UpWork.
8. Visual Content Creation Tools
Not all of the tools listed below are a must; however, a few are definitely essential.
When it comes to communicating through marketing, visual content is king. It is said that 84% of communication will be visual by 2018.
9. Audio capturing and publishgint tools (Podcasting)
Audacity - This is a free open-source, cross-platform software for recording audio content for your podcasts. I started with Audacity many moons ago, I no longer use Audacity as I now record my audio using GarageBand.
LibSyn - You need to host your podcast somewhere that can be distributed across all mediums. LibSyn is an affordable audio content hosting platform with a host of features, including publishing your podcasts to iTunes, metric tools, and more. I've been using LibSyn for the past 9 years.
Fusebox Podcast Player - The best podcast player for your WordPress website that will engage your audience and help to grow your podcast subscribers.
Recommended: Recommended Podcasting Tools For Bloggers And Small Businesses
10. Content marketing/distribution tools
YouTube - Every successful entrepreneur understands the importance of video marketing. YouTube is by far the ultimate platform for hosting and promoting your marketing videos and vlogs.
Amazon Kindle Publishing - If you're thinking about writing an eBook or two, where better to start than the Amazon Kindle Direct Publishing platform?
Medium.com - If you're not remotely interested in setting up your own blog, then Medium could be a perfect alternative solution for your business. If you have a website and want to incorporate a blog, again, Medium.com could be the ideal solution.
HootSuite - HS is one of the best social media management tools for entrepreneurs. Take care of all your social scheduling for Twitter, Facebook, Instagram, LinkedIn, Google+ and YouTube right here. For the most part, HootSuite is free, with premium options that won't break the bank.
MissingLettr - MissingLettr cleverly crawls your blog for content and automatically creates social campaigns that you can review, edit and execute. it is a HUGE time-saving tool for bloggers and content creators. Great for giving some of your old blog posts the social media exposure it deserves.
12.Online Selling Platforms
Now, if you're planning on selling anything digital online, these might be worth your time -
Payhip - My ultimate favorite eBook and digital downloads hosting and selling platform. You can learn how and why here. Payhip is affordable and easy-to-use. Once you're signed up, uploading your eBook is quick and easy. You even have buttons/links that you can embed into your website or email newsletters.
Sellfy - Sellfy is a complete ecommerce solution for internet entrepreneurs and content creators. You can sell both physical and digital products, get access to top-level marketing tools, print-on-deman, subscriptions, video-streaming, and more. Signup using my affiliate link and get 10% off your fees!
13. Online Storage
DropBox - Whether you're an entrepreneur going it alone, or heading a creative team for your new project, DropBox is perfect for storing and sharing files and docs to access across your devices, and most importantly, for keeping your workflow clean.
Wrapping up
So, there you have it, a nice roundup list that I'm sure will keep you busy for a while.
Remember, the idea is not to go out and sign up to every single tool, app, platform, or service mentioned in this list, but to take a small handful that you believe will help you become more productive, stay focused, and help you to move your entrepreneurial/blogging venture forward.
Have I missed any tool in this list that is worthy of a mention? Leave me your comments below if you like.
Enjoy.