If you're considering upgrading your WordPress hosting in 2020, before you do anything, at least read through my short comparison review of these three popular managed cloud-based WordPress hosting services currently available.
Managed shared hosting is great, isn't it? It's cheap and cheerful, and, for the most, part, a shared hosting plan is more than enough for launching a website or blog.
But, there comes a time in a blogger's journey when an upgraded service is required. There comes a time when you need a hosting plan with better technology, software, resources, and customer care too.
What is managed shared hosting?
If you're unsure what managed shared hosting is, in a nutshell, it is hosting that manages the maintenance of your website on a single server that uses a unique IP. That server can be configured to house many user accounts/websites.
This means you could have a managed shared hosting account on a server that's used by hundreds of thousands of other users with websites.
The benefit of using a managed shared hosting plan, above all else, is that it's cost-effective and ideal for a small startup or blog project.
Shared hosting is not a long term solution for the growth of your blog or small business website.
What is managed cloud hosting?
Managed cloud hosting works similarly to managed shared hosting, in that it is hosting that manages the maintenance of your website.
The main difference being that your website is hosted on multiple servers, not a single server. This is a more flexible solution and allows for the scalable growth of your website or blog as and when more resources are required.
Managed cloud hosting is a long term solution for the sustainable growth of your blog or small business website.
Why consider using managed cloud hosting over conventional shared hosting?
As I said, if you're just starting out, you don't need to worry much about getting a managed cloud hosting plan, to begin with.
You can start small, and then move your account across to a cloud-based platform when the time is right.
Cloud hosting has many advantages, including –
Flexibility (You may need additional resources for traffic spikes during busy or seasonal periods, and for consistent growth of your site).
Automated updates of software and scripts.
Automated backups.
Extra security.
Reliability with better uptime, and much more.
What the best cloud-based managed hosting available?
Well, we're going to look at three options in this post presented by Kinsta, SiteGround, and Bluehost, so let's dive right in.
Here's what we're going to be looking at in more detail –
Reputation
Technology and software
Features and resources
Reliability and performance
Support
Cost
Ok, let's begin.
#1 – Kinsta Google Cloud-Based WordPress Hosting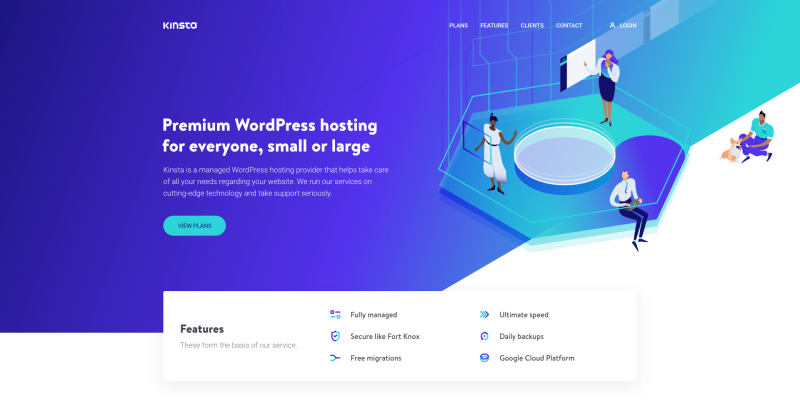 Let's start with Kinsta. If you're not familiar with Kinsta, they are a hosting company that specializes in WordPress and hosting using Google cloud-based servers.
Kinsta prides itself on offering the complete solution for WordPress website management using state-of-the-art technology.
Reputation
Kinsta's reputation has grown strong over the years. As well as bloggers and small business owners, they work closely with top brand names such as Intuit, UBISOFT, and General Electric (GE).
Technology and software
Kinsta claims to have crafted the ultimate hosting solution for WordPress, consolidating more than 10 years of experience working with the platform. Their technology infrastructure includes –
Speed optimized architecture (NGINX, PHP 7.3, LXD containers, and MariaDB).
High-security network (DDoS detection, 24/7 uptime monitoring, hardware firewalls, and SSL support).
Latest software frameworks.
Google cloud platform with 20 global database locations.
SSD storage with ample disk space and for optimum speed.
Built-in cache plugin.
Powerful CDN.
Features and resources
Each Kinsta plan includes a plethora of features and tools for hosting your WordPress site, including –
MyKinsta (Full website management dashboard).
Full documentation, knowledge base, and blog.
Free and premium level migrations.
Website backup.
WordPress plugin management.
Website metrics and traffic monitoring tools.
In-dashboard live chat support.
WordPress experts at your disposal.
Performance and reliability
When it comes to performance, Kinsta scores pretty decently. Here's a screenshot of a basic WordPress website loading time hosted on the Kinsta Starter Plan.
The test site I created used a simple Genesis theme, contained 2 plugins, 2 blog posts, 2 pages.
Kinsta's uptime and server response time were also quite impressive. Take a look at the last 12 months' worth of data from Hosting Facts below.
You can also visit Kinsta's System Status page to view historical data about their uptime for each datacenter, which is pretty neat.
Support
Kinsta comes with decent support which is provided primarily through email or Live Chat right in your MyKinsta dashboard.
The fact that live chat is available without having to jump through hoops to find it, like other hosting companies, is incredibly convenient.
Kinsta has both hosting and WordPress professionals at hand if you need them too.
Cost
Kinsta offers one of the most affordable options out of the three hosting companies featured in this post.
A single WordPress website license costs $30 per month, or you can pay $300 per year and pay only for 10 months, that's for the Starter Plan.
For the Starter Plan, you get hosting for –
1 WordPress install.
20,000 visits (monthly)
10GB disk space (Previously 5GB)
Free SSL and CDN.
If you want to host more than one website, other plans are available as shown below –
#2 – SiteGround Managed Cloud Hosting
Next up on my list is SiteGround's managed cloud hosting. Now I'm sure you're well accustomed to SiteGround as they are one of the most popular web hosts for bloggers and small business owners.
Reputation
Asides from their popular managed shared hosting service, SiteGround also offers cloud hosting solutions with rock-solid technology, state-of-the-art software, and outstanding customer service.
I've used SiteGround for almost 5-years, and I can honestly say their service is all-around wonderful, with incredible uptime.
Technology and software
With data centers located in the UK, Europe, and Singapore, you can choose a datacentre that's closest to you with SiteGround.
Speed and performance have always been SiteGround's trademarks, (figure of speech), and this was one of the very reasons why I migrated over to them back in 2015 from Bluehost.
SiteGround offers SSD storage across all their plans. In addition, their technology foundation includes –
NGINX high-speed servers.
SuperCacher.
Free CDN (Via Cloudflare)
HTTP/2 for SSL encryption.
PHP 7 implemented servers.
Features and resources
Similar to Kinsta, SiteGround also offers a suite of website management tools. These include –
SSH and SFTP.
Your own dedicated IP.
Free SSL.
Free website transfer.
Collaboration tools (Ideal for freelance designers and web developers)
Automated daily backups with a manual backup option.
Private DNS.
Regretfully, Malware discovery or revmoal is not included, not for free least. Nor do you get any website marketing tools.
Performance and reliability
Having used SiteGround for almost 5 years, I can tell you now their uptime is quite impressive. I don't want to tempt fate here, but I'm actually yet to experience downtime with websites hosted on SiteGround.
My small business website, Fabrizio Van Marciano dot com is hosted on SiteGround, here's a screenshot of the PageSpeed score. The site has around 30 long-form articles, 10 static pages, 20 plugins, and a custom-built theme.
Here's a screen capture of SiteGround's historical uptime. (source).
Support
SiteGround cloud-based hosting also provides 24/7 priority support to their customers with expert agents at hand to help.
Support is provided through a ticket system or via online chat.
My experience with the SiteGround support team over the last five years has been minimal, but each time I've needed to contact their support team through either the ticket or chat system, I've experienced swift response time. In most cases, my problems were resolved quickly with the odd few times taking a few days to resolve fully.
Cost
Now we get down to cost. SiteGround's fees are not the most affordable of the three here. But, you have to take into thought the level of their reputation, the technology, software, and service they provide.
Their managed cloud hosting plans are fully scalable too.
SiteGround's Entry Plan will set you back $80 per month, however, you can configure your own cloud plan. (Comparison chart below).
#3 – Bluehost WP Pro Managed WordPress Hosting
Finally, we get to Bluehost's WP Pro Managed WordPress hosting, which I recently reviewed here on Magnet4Blogging.
Now, I'm almost certain you've heard of Bluehost. Chances are, you're probably already using them for your website or blog hosting. If you are using Bluehost, I'd love to know how it's all going for you.
Reputation
Bluehost is practically a household name in the blogging world. They host millions of blogs and websites for businesses and are one of the most recommended web host providers by WordPress.org
That's not to say they are the best! Some may argue, but in my opinion, they are a standard hosting company. As well as having happy customers, Bluehost seems to have more than it's a fair share of poor reviews.
The reviews posted on TrustPilot, for instance, put Bluehost ins the 'Bad' category sadly.
Anyway, let's keep going for now.
Bluehost's tiered WP Pro plans offer fully managed hosting on supposedly highly optimized SSD servers. They also offer the most affordable hosting plans out of the three companies.
Technology and software
As I mentioned, Bluehost offers SSD servers that are configured and optimized for speed and performance. WP Pro, as the name suggests, is hosting optimized for WordPress websites. Their technology includes –
Dual quad compressor performance servers.
SSD storage.
Linux Operating System.
Multiple backup power solutions.
PHP 5.
Features and resources
Bluehost's features are similar to Kinsta', in the sense that they offer a variety of website management tools across their WP Pro plans.
Here's what you get –
Unlimited websites, web storage, domains, and subdomains.
staging environment.
Free SSL.
Spam protection provided by Akismet.
CDN.
Multi-layered caching.
Automated website updates.
Daily backups.
Website analytics (Jetpack).
Social media integration.
A suite of marketing and SEO tools in the marketing center.
Malware detection and removal.
As you can see, there's a whole lot to be admired about their WP Pro plan when it comes to tools and features at least.
Reliability and performance
Bluehost hosting reliability?
Well, if it were 5 years ago I would say absolutely garbage! Talking from personal experience, of course. I'm not sure about today as I do not host any sites with Bluehost anymore.
As a freelance WordPress web developer, however, I've worked on many client sites that are hosted on Bluehost and from that encounter, they've been reliable enough.
Here's a screen capture of Bluehost's historical uptime and response time. source.
Support
Now, here's where it gets a bit sticky. I'm pretty sure Bluehost's customer service has improved dramatically since I last used them, I don't honestly know.
Once again, I have worked with a number of clients who use Bluehost with no problems. But, the reason I stopped using them myself back in 2015 was because of two reasons.
Lack of customer care and technical support.
Unacceptable degraded service. (Frequent downtime on shared hosting plan).
I have to be honest with you about this, but like I said, I would like to think that they have improved in these areas.
Today, Bluehost's WP Pro customers can enjoy 24/7 WordPress hosting support, with experts available via telephone or online chat.
Cost
OK, so as I said, Bluehost's WP Pro Plan is one of the most affordable options of the three here. Their fees start at just $30 per month (£24 per month UK price).
You can take a look at their price plans below.
Which hosting provider would I personally recommend?
Well, that really depends on your website or blog's needs. It's not a case of me pointing to just one provider and saying, "Yes, go with that one!".
Each of these hosting companies offers its own level of value.
If you were to ask me, which one would I choose to use for myself? it would be Kinsta.
Why?
Well, personally, I like what they are doing and the fact that they specialize in WordPress hosting and have committed specialists at hand to assist. I like the fact that they provide great tech, software, and resources. I like the fact that their hosting is based on the Google cloud platform, and that they include Malware Detection and Removal, free website migrations, and more.
Yes, they are a lot more expensive when you compare them with the other two, but for me, Kinsta ticks my boxes. There's something to be said about a company that specializes in one particular area, don't you think?
That's not to say the other two are bad in any way, well, positively not SiteGround in any case. I've used SiteGround for nearly 5 years with zero downtime and good reliable customer support.
Bluehost, on the other hand, well, I still have my doubts about their capabilities as a hosting company. I did originally leave them because of their degraded service a few years back. Have they changed? Who knows.
That said, I'm adding them to this list because Bluehost is still a good enough platform for launching your site. You may well experience a far better service than I ever did.
I prefer Kinsta and I'm actually looking to transfer some of my larger websites over to them in the coming months.
You have to decide which hosting provider works best for you. Pick one that will provide you with all the tools, resources, tech, support you need to take your blog or small business website to the next level. And to help you, I've compiled a simple comparison chart below.
Kinsta
1 Website
10GB SSD Storage
Free SSL/CDN
PHP 7 Support
Staging Site
24/7 Support.
30-Day Money-Back Guarantee.
Malware Removal
Daily Backups
N/A
Website Analytics
SiteGround
Unlimited Sites
40GB SSD Storage
Free SSL/CDN
PHP 7 Support
Staging Site
24/7 Support.
30-Day Money-Back Guarantee.
N/A.
Daily Backups
N/A
N/A
Bluehost
Unlimited Sites
SSD Storage
Free SSL/CDN
PHP 5 Support
Staging Site
24/7 Support
30-Day Money-Back Guarantee.
Malware Removal
Daily Backups
Marketing Tools
Website Analytics
So, as you can see from the above chart, there are some plus and minuses when it comes to each hosting provider.
It's a wrap!
So, there you have it. I hope you found this post valuable, and if you did, please consider sharing it with your friends on social media, I appreciate you. Don't forget you can also subscribe to my updates via the button below.
Best of luck!