Being a content creator is awesome! I honestly get a buzz creating content that I love and content that I know others will enjoy and benefit from. If you're just starting out on your journey as a content creator yourself, whether it's through blogging, vlogging, podcasting, writing eBooks, you're going to love this ultimate resource post that I've put together for you!
My journey as a content creator started back in 2010 as a blogger. I've since ventured into podcasting as well as vlogging! This is one job that I really enjoy doing, and I hope to be doing it for many years to come.
So, I got the idea to create this post after having an enjoyable dinner conversation with my eight-year-old daughter Lily.
Lily asked me;
"Daddy, if I wanted to become a blogger or create YouTube videos like you when I'm a little bit older, where would I find all of the things I need to learn and get started?"

Lily Van Marciano - Future Content Creator?
My reply was:
"You can just do a search on Google and find everything you need?"
But then that got me thinking some more -
Because that's perfectly fine if you know what you're looking for. But when you're just starting out, you haven't got a clue about what you actually need, right?
It's quite a time-consuming process to scour the web looking for the best stuff that you need to use to be a successful content creator, so why not create a super list post with everything in one place? So, here we are.
I've broken this post up into three main parts: Blogging, podcasting, and vlogging.
I've tried to make this resource post as comprehensive as possible, but I know it's not the most complete. In the future, I will be upgrading this post with more resources as and when I discover and use them myself.
If you're brand new to my blog, my strategy has always been to only recommend the tools, apps, services that I've actually used and never the things I've not used. Because I trust the things that I've used. I've had experience with them, and if those experiences were good, that's when I decide to share them with you. Again, I never recommend anything that I think is shady or that I don't 100% trust. Never, ever.
OK, so here's what we're going to cover, so feel free to click on the link that applies to your content creation needs -
Let's do this!
Ultimate Content Creation Resource List For Bloggers!
Before we get started, here an interesting statisitc -
20 billion WordPress pages are viewed by 409 million people each month... Source
When it comes to blogging growth and productivity tools, I've already created a detailed list of the things I've used over the last decade to grow my blog, which you can find here.
In the list below, however, I've included some additional tools that I have started exploring. These include plugins, web apps, software, hardware, and more.
1. Web hosting
Reliable web hosting is the basic building block of a great blog or website! Cheap hosting will save you money, but it won't save your sanity if anything goes wrong. Here are three great hosting providers to consider for your blog. These three hosting companies have been around for many years, and over the last decade, have provided me with great service.
Siteground - Siteground is one of the most reliable and secure hosting providers in the business. Magnet4Blogging has been proudly hosted on Siteground since 2015. The company offers managed WordPress hosting as well as cloud hosting for larger websites and blogs.
SiteGround is not the cheapest around; prices start from around $7 per month. My monthly web hosting bill is $100 per month, that's because I have several high-traffic blogs, as well as niche sites and an eCommerce business hosted on the SiteGround Cloud Platform.
Recommended post: How To Start A WordPress Blog With Siteground.
Bluehost - Bluehost is one of the longest established web hosting providers in the business. They are most bloggers' top choice when it comes to affordable web hosting. I started my blogging journey with Bluehost back in 2010 before migrating to Siteground.
Bluehost offers dedicated WordPress hosting, as well as cloud hosting. Their WordPress hosting offers everything you need to grow your blog. They include a free domain name for the first year and a step-by-step setup for WordPress blogs for new accounts.
Recommended post: How To Start A WordPress Blog With Bluehost.
Kinsta - Kinsta is professional premium WordPress hosting at its best. Built on the Google Cloud Platform, Kinsta can provide fully managed, secure, and high-performance hosting for your blog project, big or small. Their plans also include a host of site management features such as analytics, bandwidth tracking, WordPress plugin management, and migrations.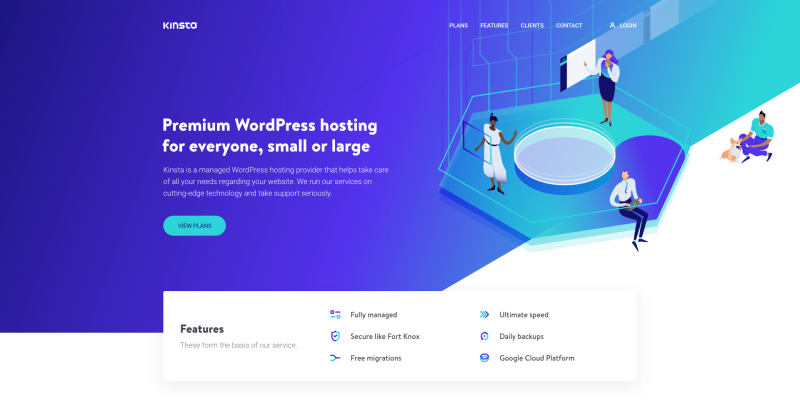 Kinsta is not the cheapest around, prices start from $30 per month for just one WordPress blog.
Recommended post: Kinsta Managed WordPress Hosting Review And Tutorial.
2. WordPress Themes, Plugins, Web Apps
WordPress themes and plugins are great for branding, adding features and functionality to your blog. The WordPress repository consists of over 50K plugins, but you seriously don't need to install all of them 🙂
The same goes for themes; Just in case you're brand new to this - themes are like skins that you install into your WordPress site to give it a unique appearance.
There are literally millions of themes and templates to choose from. Sometimes, however, finding the right theme can be a headache. This is where theme builders are popular. Theme builder plugins allow you to visually create the blog you envision from complete scratch using simple click, drag, and drop editing. True WYSIWYG
OK, so in the table below is a list of the best theme builders, plugins, as well as web apps I recommend using to create and grow your blog.
3. Blog promotion and growth
No resource post is complete without a list of the top tools for managing and growing your blog like a pro. Below are a few of the tools I use in my blogging business. If you're looking for a more comprehensive list, check out this mega-thread post I created here.
SEMrush - The top tool of choice for search engine marketing, keyword research, traffic generation for bloggers and marketers. It's on the expensive side, mind you. However, what I've done in the past is signup for just a few months. I reserve the time to use the tools to focus on improving my blog content and traffic. A few months is all you need to kick start your blog growth. When you signup, you're not tied into any yearly contract with SEMrush.
Recommended post: How To Use Find The Best Long Tail Keywords For Your Blog
Monitor Backlink - Building natural backlinks to your blog takes time. However, you also need to monitor your backlinks from time to time to ensure you're attracting good links. MonitorBacklinks helps you analyze your blog's backlink profile, and if you need a clean-up, you can easily do it all using the built-in features.
CoSchedule - Marketing without CoSchedule for me would be a complete nightmare. I don't have time to bounce from one platform to the next, scheduling my social media messages, email newsletters, blog posts, etc. I do all of this in one place; that place is CoSchedule.
I've used CoSchedule for my blog for almost two years now, and in my opinion, no blogger should be without this app. Yes, it's on the expensive side, but it's a lot more affordable than it was several years gone. When I signed up to CoSchedule in 2018, its monthly subscription fee was almost $50 per month. Their marketing calendar now starts from $29 per month (Paid Annually).
Recommended post: How To Clean Your Backlinks With MonitorBacklinks
Here's a snapshot of my marketing and content calendar for Magnet4Blogging using CoShedule.
Recommended post: Why I Use CoSchedule In My Blogging Business
Right then, to finish off our ultimate list of content creation tools for bloggers, here is a final list of actual tools for creating content!
Ultimate Content Creation Resource List For Podcasters
OK, let's kick-start this list with another statistic -
An estimated 73 million people listen to podcasts each month. Source
If your choice of content creation and distribution is podcasting, the list below are some of the best tools that I use and recommend for recording, publishing, and promoting your podcast.
Whilst there are plenty of third-party platforms that you can submit your podcast to, many podcasters prefer to publish their shows on their website (WordPress). Let's go through the podcasting tools and resource list below.
Blubrry PowerPress Plugin - No, I didn't just misspell blueberry; it's Blubrry. Blubbry has been the No1 podcasting plugin for WordPress for a long time. I've had this plugin installed on my blog here at Magnet4Blogging since 2013, and it just works! The great thing about the Blubrry plugin is that it fully supports Apple and Google Podcasts, Spotify, and Stitcher.
Fusebox Classic Player/Transcript - Whilst the Blubrry plugin is powerful, the podcast player lacks a little bit. It's not that inspiring or intuitive, to be honest. This is why I use and recommend the Fusebox Classic Player plugin. The plugin lets you customize your podcast player to match the look and style of your blog.
If you head over to my podcast page and click on an episode, you will see what the podcast player looks like at the top of the post.
Libsyn - When it comes to podcast hosting, no one does it better than Libsyn. I've been using this service since 2010! Yep, I've been a paid member for over a decade. I love this service. Libsyn not only allows you to host your podcast, but you can access detailed stats about your listeners, such as daily, weekly, and monthly downloads and more. You can see your podcast grow!
Here are some additional podcasting tools, apps, and gear I recommend checking out -
If you're brand new to podcasting, I recommend checking out these in-depth tutorials. They really helped me out when I started my podcast -
Ultimate Resource List For Video Content Creators
You know the drill, let's start with a video statistic -
YouTube is the consumer's leading source of video content in the U.S. at 75%, followed by Facebook at 64%. Source
Vlogging is a way of communicating using video medium like blogging is with words. This activity is not just reserved for the new generation of content creators. Veteran bloggers, digital marketers are also jumping on the video content creation bandwagon!
Below is a list of the best tools, apps, tech, and online services that I use and recommend. I don't consider myself a vlogger, but I do spend quite a bit of time creating video content for my YouTube channel, which I also embed into my blog posts.
1. Tech gear!
Smartphone Vlogging Kit - You don't need to invest in expensive camera equipment to start vlogging or creating videos. If you have a smartphone, you already possess the best vlogging tool right in your pocket. This smartphone video microphone kit will turn your smartphone camera into the ultimate vlogging camera! So, you have no excuse!
Sony ZV-1 Camera - Easily one of the best vlogging cameras for content creators! This is one of two cameras of choice for me. I use this and my trusty Panasonic Lumix G7, which is a little older but still a great camera even in 2021.
The Sony ZV-1 is a 20.1 MP 4K camera that comes with a variable-angle LCD screen. It's pretty important to see yourself when recording selfie videos. It also has image stabilization, another important feature, and live streaming capabilities. Great camera for starting your vlogging ventures!
DJI Ronin SC - I'm a huge fan of this piece of kit, which I've been using a lot in my videos. This piece of kit is absolutely NOT essential, but if you are diving into semi-pro film making or vlogging, and have the money to spend, then it's a good choice.
The Ronin SC is a compact professional gimbal for DSLR cameras! This little piece of kit helps to add a ton of stabilization to my videos. It is on the expensive side, and I'm sure if you do some research, you may find alternatives, but if you can budget for the DJI, I highly recommend it.
2. Video content creation and editing tools
Creating and editing videos takes an enormous amount of time and energy. Below is a list of the best video content creation and editing software and apps I use and recommend.
3. Other resources
OK, so that's the tech and software stuff out of the way; here are some additional resources that you might find useful.
It's a wrap!
OK, that's it, we're done with this mega-tools and resource post! Whatever type of content creator you are, I hope you've found this post valuable. If you have any questions about any of the tools, software, apps, links, tech mentioned above, please leave me a comment below. If the comment section is closed, get in touch with me here. Best of luck! Now go make the web a better place!
Recommended Posts On Magnet4Blogging